Mr. Ossenburger is an alumni of Pencey Preparatory School whom the Ossenburger Wing of the dormitories was named after.
Biography
Edit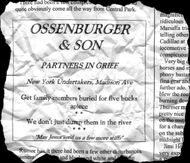 According to
Holden Caulfield
, Ossenburger achieved success after graduating by offering inexpensive funeral services.
Ossenburger Memorial Wing
Edit
After achieving financial success, Ossenburger donated a large amount of money to Pencey and one of the wings of the new dormitories reserved for juniors and seniors was named after him. Holden Caulfield, a junior, was staying in this part of the dormitories prior to his expulsion.